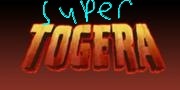 He can fly by using his spike on his shoulders and he can change between 3 modes: Mirage, a speed mode; Tank, a strength mode; Gamma, a general mode.
Differences
Edit
He has spikes everywhere and can summon a minion like other upgrades, which looks like a four legged version of him.
The term "Super" used in Super Togera is most likely a reference to Super Godzilla, a powered-up version of Godzilla from the game he name-sake game.